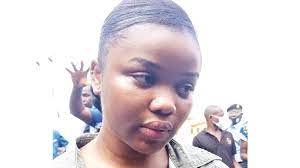 USIFO ATAGA: CHIDINMA, SECOND DEFENDANT'S ABSENCE STALLS TRIAL
Read Time:
2 Minute, 8 Second
By Aishat Momoh. O.
The ongoing trial of Chidinma Ojukwu, the prime suspect of the alleged murder of SuperTV boss, Usifo Micheal Ataga, has suffered a setback following her absence, and also the second defndant, Adedapo Quadri, at the Lagos High Court at Tafawa Balewa Square (TBS) annex, on Tuesday.
At the resumption of the trial, only the third defendant, Chioma Egbuchu was present in court as other defendant were unable to appear due to the Nigeria Labour Congress' (NLC), nationwide strike.
According to the observation by our correspondent, other inmates were also not brought to the court for the same reason.
Chidinma is standing trial on charges of murder, theft, and forgery alongside her sister, Chioma Egbuchu, and Adedapo Quadri before Justice Yetunde Adesanya.
When the case was called, the prosecuting team led by the Director of Public Prosecution, Mrs Adenike Oluwafemi, announced their appearances while stating that the case was for continuation of cross-examination of the ninth prosecuting witness, DSP Olusegun Bamidele, by the first defendant's counsel, Onwuka Egwu, and also continuation of the trial.
Justice Adesanya, said that officials from the correctional facility had informed the court that the inmates would not be in court for security reasons until the strike is called off.
Mrs. Oluwafemi said, "My witness, Bamidele Oluwasegun, is in court and we still have two more witnesses besides the 9th witness."
Mr Onwuka Egwu suggested to the court that tomorrow's date be vacated, while mentioning that a fresh date be given.
"Due to the NLC strike, I would suggest that we vacate tomorrow's date and give a clear fresh date."
Meanwhile, the second defense counsel, Mr. Babatunde Busari lamented the setback that the case was experiencing.
He said, "Despite the effort given to this case by the court, the trial is still taking too long. There is no trial day that I come to this court without the trial going on..I also suggest that a clear date be given to ensure that substantive Justice be done on this matter."
Justice Adesanya however, after listening to the suggestions, vacated tomorrow's proceedings and adjourned till Dec 5, 7, 12th, 2023 and January 24, 29, and 30th, 2024 for continuation of trial.
Chidinma was arraigned on October 12, 2021 on a nine-count charge preferred against her alongside two others by the Lagos State Government.
She and Quadri, are facing the first to eight counts bordering on conspiracy, murder, and stabbing while the third defendant, Egbuchu, is facing the ninth count of stealing an iPhone 7 belonging to the late Ataga.