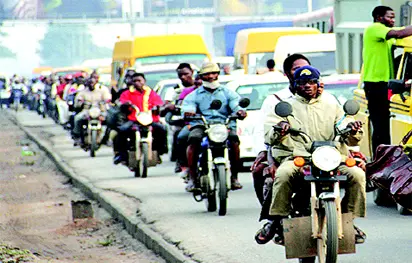 LAGOS: HAUSA COMMUNITY APPEALS FOR REVERSAL OF OKADA BAN, GUARANTEE SANWO-OLU MASSIVE VOTES
Read Time:
1 Minute, 56 Second
Some Hausa leaders in Lagos State have petitioned Governor Babajide Sanwo-Olu to lift the prohibition on Okada activities in the state's six local government areas.
The leaders, who talked to the press separately on Wednesday, said Okada riders from northern Nigeria make a substantial contribution to the voting population of Lagos and should not be economically disadvantaged.
Sanwo-Olu outlawed commercial motorcycle operations in six local governments and nine local government development areas in the state on Wednesday.
Eti-Osa, Ikeja, Surulere, Lagos Island, Lagos Mainland, and Apapa are among the councils affected.
"We will not sit by and let criminals exploit that form of transportation (motorcycles) to commit crimes and criminality in Lagos," the governor declared. Every day, lives are lost, preventable accidents occur, and riders disregard all of our traffic regulations.
"Law and order has completely collapsed as a result of the circumstances." This ban is here to stay, and we will not tolerate any enforcement failures.
Saliu Waziri, the Seriki of Obalende, however, believes the government should reconsider its decision.
Waziri suggested that the government instead obtain data on Okada riders in Lagos in order to identify any intruders or criminals.
"This issue has taken us a long time, and we've tried to put our members on the line," he said. I would ask the government to reconsider its decision because Lagos cannot function without bicycles due to traffic congestion. The government should register Okada riders in each local government so that everyone knows who works there. The government would then know who to choose when a problem arose.
"Some of our members stay in Lagos during elections and vote." Because we contribute to votes during elections, this should count for something. The government should reform the system of stopping Okada riders. "
Waziri, on the other hand, has ruled out any legal action against the state government.
The Seriki Hausa of Ajah agreed with his Obalende counterpart that the government should take the voting demographics of Hausa Okada riders in Lagos into consideration.
"Truth be told, unlike Governor (Babatunde) Fashola, Governor Sanwo-Olu has been understanding with the Okada people. Members of the Okada should follow the law, while he appealed to Governor Sanwo-Olu to look into the problem and repeal the ban before the election because it is impacting his people.