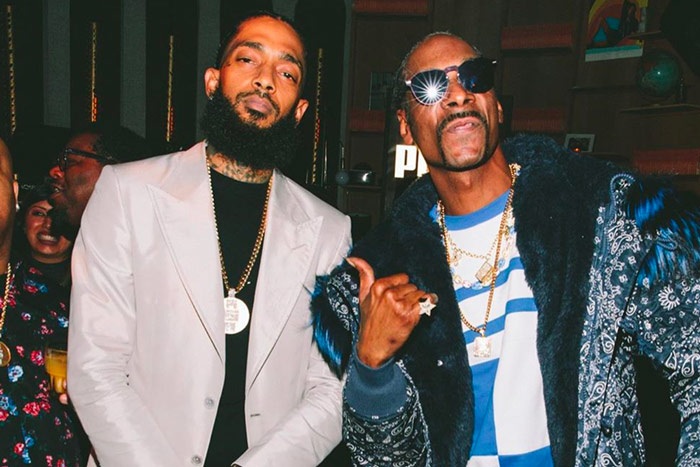 SNOOP DOGG REVEALS NIPSEY HUSSLE WROTE ONE OF HIS SONGS ON "COOLAID"
Read Time:
1 Minute, 6 Second
By Adeniyi Onaara 
Nipsey Hussle's pen is praised by Snoop Dogg.
Nipsey Hussle's spirit is still alive and well. In his lifetime, the late rapper only issued one official album and a handful of mixtapes, solidifying his image as an independent artist.
During his rise to fame, he did give his skills to other rappers, including several OGs. Snoop Dogg recently took to Instagram to disclose that Nipsey Hussle composed a song for him on the 2016 album Coolaid.
Snoop revealed in the description of a video of himself dancing to "Ten Toes Down" that Nip was a ghostwriter on the song.
Snoop wrote, "The late great @nipseyhussle wrote this for me." "10ToesDown. Albulm. Coolaid."
This wasn't the first time they collaborated. On tracks like "Upside Down," "Gangstas Life," and "Question #1," the two California rappers collaborated.
Throughout his career, Snoop Dogg has been in Nipsey's corner. In 2019, Snoop addressed at Nipsey Hussle's funeral ceremony at the Staples Center, recalling what drew him to the Crenshaw rapper.
He stated, "One thing that me and Nip shared was a compassionate attitude, a sense of love." It seemed as though a magnet pulled us together when we first met. We had the same outlook. But what was remarkable was that Nip's thinking was stronger than a 15-year veteran rapper."
0
0
The governor of Lagos State reaffirmed the commitment on Monday. Lagos State will continue to be accessible and to offer...