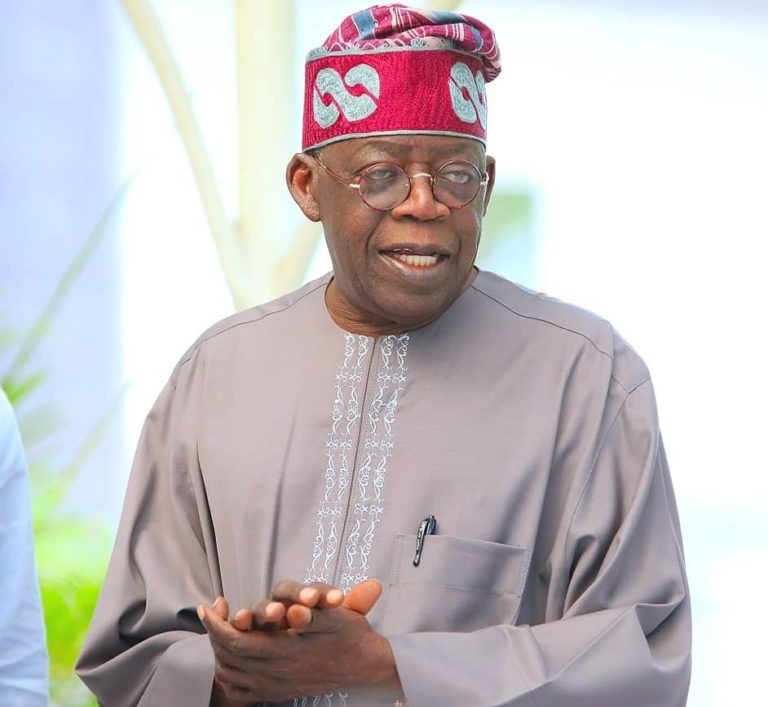 TINUBU: FOR THE SAKE OF NIGERIA'S FORTUNE AND FUTURE
Read Time:
18 Minute, 45 Second
By Adeniyi Onaara 
Nigeria is a fortunate country, endowed with everything a country requires to flourish in the long run.
However, we have been successively ruled by those who are stone-heartedly immoral and ungodly, from military to civilian governments. We haven't had the good fortune of having leaders whose behaviour and deeds are guided by philosophy and vision for long-term institutionalization.
Nothing in the preaching of piety and exhortation based on God's commandments has persuaded them to act like individuals who are concerned about life after death. Some even believe they will live forever and enjoy their evil as though there will never be a day of judgment.
The situation has worsened as a result of these leaders' constant siphoning of the nation's limited natural and financial resources, which they do without remorse.
No saint has ever been made in human folk by divine default, not even in the modern world. However, amid the "unsaintly" individuals, there are a few exceptions who are doing everything they can within their "fallible" human capacity to ensure that they raise the bar of conscience, doing what is regarded selfless enough to improve the quality of life of others.
I've come to talk about one of those exceptions, a remarkable human person, a democrat, a visionary leader, a doer, a progressive, a philosopher, a builder of leaders, SENATOR ASIWAJU BOLA AHMED TINUBU, the leading Aspirant for the position of President under the All Progressives Congress, APC, is a bridge between generations, a warehouse of developmental strategies, a man whose ideas are ageless visions for institutional transformation, the man for the future, and a fortune manufacturer.
1) BACKGROUND INFORMATION
On March 29, 1952, Asiwaju Bola Ahmed Tinubu was born. He went to Children Home School in Ibadan and Saint John Primary School in Aroloya, Lagos. In 1975, he moved to the United States and enrolled in Richard J Daley College in Chicago, Illinois.
He earned his Bachelor of Science in Accounting from Chicago State University. He is also a reputable Chartered Accountant who has worked as an accountant and treasurer for various international organizations, overseeing their complex financial operations.
He served as governor of Lagos State from 1999 to 2007, during the present democratic dispensation, sometimes known as the fourth Republic.
He's a savvy administrator and tenacious politician whose political journey has drawn like-minded companions and spawned a slew of new progressive sojourners. He is now running for President of the Federal Republic of Nigeria as part of the APC.
Tinubu was responsible for the financial birth-through of global enterprises as a private employee, especially during difficult times. He was the only brain behind the financial management of Mobil Oil Company at the time, maintaining an up-to-date book of accounts with discipline and ethical conducts.
Tinubu is a well-versed financial economist who is capable of rescuing the country from its current financial, budgetary, and economic challenges, as well as proposing answers to the naira's daily depreciation.
2) TINUBU AND THE ECONOMY
Nigeria is without a doubt facing major economic difficulties. Due to bad economic management and insecurity, the naira has not only lost value but also seen a substantial reduction in Foreign Direct Investment, FDI, and Foreign Portfolio Investment, FPI, among other things. There has also been a slow pace of industrialisation, with many existing businesses closing due to a lack of incentives.
Asiwaju Tinubu is known for handling difficult financial and economic difficulties, eventually turning the fortunes of Lagos State around to prosperity, to the point where the state is now Africa's largest economy.
This feat was possible due to Asiwaju's economic intellect, which enabled him to propose ideas that would help Nigeria's fortunes turn around.
It's also worth emphasizing that throughout Nigeria's history, we've never had a President with a solid understanding of the economy, either from academic qualifications or professional experience.
There isn't a single person who comes close to having that qualification. As a Chartered Accountant and an economic specialist who has managed the finances of a number of international corporations, Asiwaju has the ability to introduce new ideas into the system that will help Nigeria's economy turn around.
It's one thing for a government's leader to have to hire specialists and professionals, or technocrats, to do the work; it's quite another for the leader to be able to assertively monitor and supervise those he has appointed to do the job. No administration can function effectively if it is left to its own devices.
One of the reasons for our socioeconomic decline is that prior government leaders were unable to keep track on their appointees who were put in charge of the administration of several sectors. This is particularly currently bad especially with reference to the fiscal and monetary responsibilities of the Central Bank of Nigeria.
This will not happen under Asiwaju. Tinubu will not only appoint the best managers of our affairs, such as Ministers, the Governor of the Central Bank of Nigeria, Special Advisers, and heads of various government agencies, but he will also ensure that these managers' adhoc policies do not undermine the institutional and legal framework.
3) CONCERNS ABOUT SECURITY AND INSECURITIES
Insecurity is without a doubt the most difficult crisis that the country is currently confronting. It is not an exaggeration to argue that the country is on the verge of disintegration and collapse if nothing is done urgently.
What makes the security situation more difficult is not a lack of human and material resources to combat various crimes, but a lack of good leadership direction to hold the situation together and coordinate the command and control, to direct enforcement, place the right people to do the job and enforce discipline on erring officers should there be a dereliction of duty.
It is embarrassing to remark that Nigeria is militarily capable of dealing with the insecurity crisis, but combating crime has become a phantom. Why has there been almost little progress in effective crime control is a riddle. Asiwaju Tinubu has done it before and has the ability to do so again.
Effective law enforcement can be achieved when the issue of security is approached without emotion, and when the correct people is recruited based on competence rather than emotion. Asiwaju Bola Ahmed Tinubu has never shied away from his responsibilities, nor has he ever used sentiment to put people in positions of power.
In Lagos, he was able to effectively control insecurity to the benefit of the people to the barest minimum, giving special attention to Lagos Police Command and assisting the other security agencies with logistic supports.
I am aware of the major insecurity challenges in the country, ranging from terrorism – the Boko Haram in the North, the IPOB secessionists in the South East, the banditry in the North West, ritual killing and kidnapping for ransom in the West, the oil bunkering in the South-South, etc, which have enveloped the nation and eroded its peace.
Asiwaju Tinubu has the capacity and the competency to address these challenges adequately. Asiwaju, I assume, is going to ask all warring sides and criminal elements to sheath their swords and surrender to the Authorities with a possible consideration for amnesty, while enforcing with appropriate measures to any such threat to national security and Nigeria's unity as a nation.
Asiwaju is interested in in growing this nation to prosperity and he knows that no nation prospers in state of insecurity. Therefore, where the national security of the nation is threatened, he is going to use the full instrument of the state to protect the ordinary citizens' life and property from the hands of a few criminal elements without fear or favour.
4) CORUPTION CONTROL AND MANAGEMENT
Be it insecurity, regional agitation, quest for secession, etc, the grand cause of all these is injustice and corruption. Nigeria has been adjudged as one of the most corrupt nations of the world and we cannot thrive where corruption is the order of the day.
Tinubu has been a technical manager of anti-corruption; he has been able to prevent any corrupt tendencies that can cripple a nation from discharging its responsibilities. It is on record, that unlike all other governors who have served in order States as him, not even a single person from Asiwaju's cabinet, either as a commissioner, Permanent Secretary, Special Adviser or anyone whatsoever has been found wanting of financial infractions not to talk of Asiwaju himself.
Asiwaju is probably the most investigated former governor, yet, not even a single shred of evidence has been found against him as far as financial crime is concerned. Asiwaju's accountability and financial discipline is second to none.
Talking about the institutional enhancement on anti-corruption fight, Tinubu is going to reinvigorate the anti-corruption institutions to make them work more independently and efficiently. In Lagos, Asiwaju Bola Ahmed Tinubu worked efficiently by sponsoring more executive Bills that were used in tackling the prevailing financial challenges then, including traffic crises.
There is no doubt that the current enabling anti-corruption laws require upgrade and amendment. Asiwaju is going to sponsor the amendment of all the anti-corruption laws which will be used to reengineer the fight against corruption, especially on the management of the proceeds of crime.
5) JUDICIAL INDEPENDENCE AND ADMINISTRATION OF CRIMINAL JUSTICE
It is relishing to recall that it was during Asiwaju Bola Ahmed Tinubu's tenure as Governor of Lagos State that the State's Judiciary enjoyed institutional independence.
Asiwaju Bola Tinubu upgraded Lagos State judicial administration and digitalized its operations.  Lagos State probably has the most profoundly advanced judicial management system where matters are dispensed with without interference from the Executive.
Lagos State was even the first State in the country to pioneer Administration of Criminal Justice Act -ACJA, which would later be emulated by the Federal Government.
Therefore, when Tinubu becomes the President, Commander-in-Chief of the Armed Forces of this great county, Nigerian people should look forward to an independent judiciary that dispenses justice and not just judgement.  The country should also expect a proposal for the amendment of the constitution where the membership of the Bench would be separated from the membership of National Judicial Council, NJC.
Without any iota of sentiment, if a country's legal system must grow, the Judiciary must be truly independent, and this is what Asiwaju is going to do.
6) INFRASTRUCTURAL DEVELOPMENT
It is instructive to say that Asiwaju is the architect of the modern Lagos, where infrastructural development has now been turned into a norm. One of the greatest qualities of a leader is the ability to develop vision, capable of renewing dying infrastructure.  Eko Atlantic project is a visionary creation that only a mind as futuristic as Asiwaju can initiate and execute.
Visionary leaders do not necessarily have to start and complete a project withing their tenure of office, they should just be able to chart a course for transitional progression. This is what Asiwaju has done in Lagos and can do for Nigeria.  Lagos, Nigeria, and indeed Africa will now be hosting United States of America's biggest Consular Office courtesy of Asiwaju's projected visionary.
I want Nigerians to be led by a man who will bring positive attention and attraction of the world to the country.  There is a leader that Nigeria needs who will connect the North and the South through the West to the East up to the Sahara with an ease without having to mortgage the financial capacity of the country.
Asiwaju is a leader Nigeria needs at this critical time to save the nation from the burden of impending bankruptcy and fragile insecurity.  Asiwaju's ability to generate more income for the state will place the country at a financially competitive level.
7) VALUE AND ETHICS INSTITUTIONALIZATION AND CONTINUITY
Precedence is one of the yardsticks through which we judge a leader that can keep the country growing through ethical indoctrination, generation mentorship and value chain institutionalization.  There have been three Governors after Asiwaju Tinubu and the three have strictly relatively followed the pattern of development and discipline laid down by Asiwaju, maintaining infrastructural development goals, financial discipline, political inclusiveness, etc.
This practice is keeping Lagos above its pairs despite its enormous demographic challenges.  It is one thing to have infrastructural development, it is another thing to have a strong maintenance culture.  Lagos State has a shoulder above others in maintenance culture, a discipline that its birthed by Asiwaju Bola Ahmed Tinubu.
8) SOCIAL-POLITICAL EQUALITY, RELIGION FREEDOM AND POWER DECENTRALIZATION
It is instructive to say unequivocally that there is no Nigerian politician, dead or alive who has ever held a political office and has been as tolerant as Asiwaju.  Tinubu has demonstrated the true traits of a true Nigerian who understands the multiplicity of Nigerian cultural and religious differences.
As a state Governor and a Muslim, Asiwaju could have decided to appoint, develop or grow only those from his State and his religion, instead, he even made more people who don't even have personal relationship with him.
He appointed as Commissioners and Aides like Akabueze from the East, Joe Igbokwe from the East, Lai Muhammed from the North Central, Yemi Osinbajo of the Redeem sect and Christian faith and Aregbesola of Ilesha, among others.
He has not treated these people based on where they come from or the religion they worship, rather, he only associated with them and grew them based on their capacity to contribute to the development of the Nigerian
Nation.  I am therefore convinced that if Asiwaju is elected the President, the cry for marginalization will be a thing of the past as everybody will be equally represented in the government of Asiwaju.
From what he has done in the past, it is also evident that federalism in its practical application will be in place, such that power will truly belong to the people with so less attention and focus on the central government.  This is one of the reasons why we need to vote Asiwaju as the President of Nigeria where our grassroot institutions will be developed.
I imagine who the National Security Adviser would be and it would not be someone with zero strategy to fight insecurity. I further imagine who the CBN governor but I know he would appoint anyone who will be selling dollars to cronies to devalue naira.
9) GENERAL NOTE AND CONCLUSIONS
I must admit that there have been several "threats" against the emergence of Asiwaju as the flagbearer of the APC.  The conspiracy theorists have propounded several theories on why Asiwaju should not fly the ticket.  Some have thoughtlessly said that fielding in Asiwaju as APC flagbearer might make the party lose in the presidential election should the leading opposition party field in a candidate from the North.
Some other people with the touch religious bigotry have argued that Asiwaju being a Muslim from the South may only win if his running mate is also a Muslim from the North, which they say, should not happen because they can't have "Muslim-Muslim" ticket. Some have even talked about his age as though old age is antithetical to good governance.
For those who argue that Asiwaju will lose if the opposition party nominates a candidate from the north, I think this is based on historical memory. Despite the fact that the SDP had a Muslim-Muslim ticket at the time, an Abiola from the South West defeated a Bashir Tofa from the North in 1993.
In 2003, a Christian from the south-west, Obasanjo, defeated a Muslim from the north, Buhari. We also had a Jonathan from the South-South defeating Buhari and Ribadu, both from the North, in 2011.
In today's Nigerian politics, a candidate's place of origin does not always influence whether they win or lose; there are many other factors that determine whether they win or lose or victory of any candidate. General Buhari (as he then was), as popular as he was, suffered three successive defeats in the hands of Southerners until he had to partner with Asiwaju to win in the 2015 presidential election.
I make bold to say that neither Abubakar Atiku (should he clinch the PDP ticket) nor Kwankwaso (should he clinch the NNPP ticket) can stop Asiwaju from becoming victorious in the coming general election despite the mischievous fear of Asiwaju antagonists.  Democracy has grown in Nigeria beyond mere party affiliation and candidate origin.
Everything now depends on combined factors especially on the ability of the candidate to show his nationalistic tendencies to be fair to all.  Asiwaju is a candidate to beat in this coming general election.  APC should not gamble with their expected victory unless there are certain blocs within the party who are deliberately trying to scuttle the victory of the party in the general election.
Democracy is about number.  Where no rigging is sanctioned, any candidate who can muster the strengths to have the number can always win an election.  Patrick Uba of YPP didn't have to belong to either APC or PDP before he won his senatorial election. Politics is local they say. It is unfair for anybody to attempt to usurp the right of any candidate to pick his own running mate in an election.
Those who are forecasting who Asiwaju's running mate may be and creating a preemptive bad blood against him cannot even match him in his sophisticated political strategy.
When it is time for Asiwaju to take a leap on the next step, he has never missed the target on the right place to place his legs.  He knows what to do, when to do it and how to do it without offending the sensibility, the sensitivity and the general interest of every religion and region.
Age they say is just a number.  Many who will argue that Asiwaju is "too old" at 70 years once clapped for 77 years old Trump and now giving standing ovation to 78 years of Biden, both of America.
It is hypocritical of anybody to attempt to denigrate the personality of Asiwaju and whittle down his capacity to rule this country effectively and efficiently to move the country truly to the next level based on the assumption that he is too old. Age is not a blockade to effectiveness and efficiency. We only need the brain and the intellectual capability of Asiwaju to move the country forward, the resources he has in abundance.
For those who are making attempt to distort the party's zoning arrangement, it is admonishing to say that zoning, power rotation or whatever nomenclature we call it, that considers periodic power shifting between the South and the North is not just a political party's internal arrangement, it is also a nationalistic call.
No party this time should take the other regions for granted and until a micro zoning arrangement is concluded to put into consideration the position of the South-East, South-South, North-East, North-Central or North-West as the case may be, the South-West should have the next call on Nigeria presidency and nothing should tamper with that convention.
Let us stop all the hatred and mischievous permutations against Asiwaju which is affecting our (party's) focus and planning for effective victory in the general election. Asiwaju's ascension of the throne is neither a loss nor a threat to Northern benefits and interest.
It will be another bad precedence, yet, the worst one, to deny hard-work the right reward and award same to someone who did less or even nothing. When we fail to reward hard work, we are only going to be energizing laziness and opportunism.
From the foregoing, it has been established, unequivocally, that, of all the aspirants that we have in the APC today and by extension other political parties, they can only trail behind Asiwaju in terms of capacity, visionary, incorruptibility and competency to move the nation forward. For those who want Nigeria to be truly industrialized, Asiwaju will be the driving force.
For those who want to kill hate crime, we will need to borrow Asiwaju's show of love to others. For the country that needs fairness and justice, Asiwaju should be the
next President.  For the nation whose economy is on precipice, with its currency nose-diving into zero value, Asiwaju will be the real resuscitator of our naira and its value.  For the Youth who are exiting the country for greener pasture abroad, Asiwaju will create a country we dream abroad for you.
For foreign investors who want to establish in Nigeria, Asiwaju will create a secured enabling environment for your investment to grow.  For the Igbo man who is craving for recognition, for the Yoruba man who wants his intellectual resources to be considered an asset to the nation, for the Hausa man who is begging for increased and improved child education and for Nigerians who want to have a formidable country, Asiwaju will make everything possible and easy by creating a legal framework through which the country will be run and administered on a fair and balanced distribution without any part of the country feeling left behind.
And for those who want to make this country ungovernable by creating artificial insecurity, we will all join Asiwaju Bola Ahmed Tinubu, our incoming President, to make life unbearable for you.
For the patriots who truly want this country to competitively be on the same developmental shoulder with United Arab Emirate, United States of America, United Kingdom or Kuwait, those who want one naira to be equal to one dollar, I encourage you, I beg you to let us support Asiwaju to emerge as the candidate in this primary and win in the general election.
We will not only be here together to celebrate the victory, but we will also be here to enjoy in fulfilment the aforementioned promises. Asiwaju has done it before, he can do it again. He has developed from zero to hundred degree, he had forgiven when offended, he had been magnanimous when provoked, he had been patient when annoyed, he had even loved those who hate him.
He is bold, fearless, assertive, altruistic, conscionable and he is not desperate. We need a character with such godly virtues to lead this country at this critical time, we need Asiwaju Bola Ahmed Tinubu to be the President of Nigeria come 2023, Maa Shaa Allahu.
Let us vote for Asiwaju Bola Ahmed Tinubu for Nigeria's fortune and future.