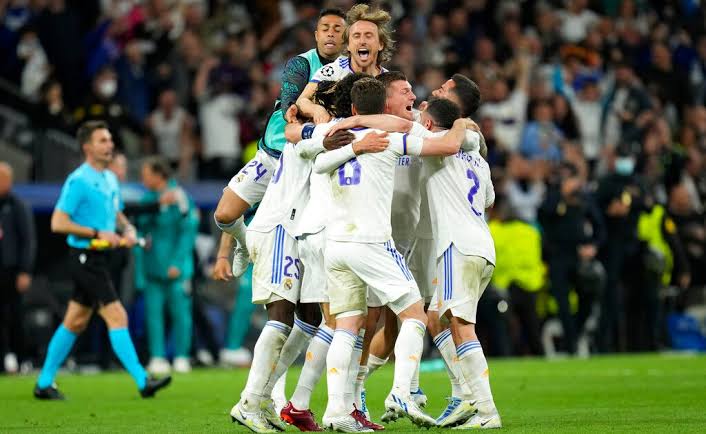 BREAKING: REAL MADRID WINS 14TH CHAMPIONS LEAGUE TITLE
Read Time:
1 Minute, 44 Second
By Adeola Abdullah
Spanish giants, Real Madrid have won their fourteenth European title by defeating Liverpool FC of England in the UEFA Champions League Final played on Saturday night in Paris, France.
The lone goal of the match was scored by Brazilian sensation, Vinicius Junior in the 59th minute of the game as he fired into an empty net from a low cross from the edge of the 18-yard box from Federico Valverde, with Liverpool unable to score amidst a superb performance from Madrid goalkeeper Thibaut Courtois.
Madrid striker Karim Benzema had a goal controversially disallowed just before half-time, striking home from an offside position on the edge of the six-yard box after the video assistant referee judged Fabinho to have unintentionally deflected the ball to the striker's feet.
Madrid finished off a remarkable journey to this season's final; first was a comeback victory over Paris Saint-Germain in the round of 16, then edging Chelsea in extra-time in the quarterfinal, and finally leading an unprecedented comeback over Manchester City in the semifinals.
The match was delayed by 36 minutes amid chaotic scenes outside the stadium as thousands of Liverpool fans were stuck outside and police deployed pepper spray and tear gas on supporters.
Courtois put up a man of the match performance as he kept Liverpool at bay, notably with a superb save from Salah on the right-hand side of the 18-yard box to push the ball past the far post as Ancelotti's side ran out 1-0 winners.
"Yesterday in the press conference I said that when Madrid plays finals they win. I was on the good side of history," Courtois told BT Sport.
"I saw a lot of tweets coming my way that I would get humbled today it was the other way round.
"Today I needed to win a final for my career, for all the hard work to put respect on my name as I don't think I get enough respect, especially in England. I saw a lot of criticism even after a great season."