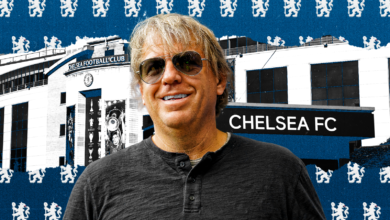 TODD BOEHLY COMPLETES 4.2B CHELSEA TAKEOVER TO END ABRAMOVICH 19-YEARS REIGN
Read Time:
1 Minute, 12 Second
The Todd Boehly-led consortium have completed a £4.25bn takeover of Chelsea, ending Roman Abramovich's 19-year ownership of the club.
"We are committed to investing in key areas that will extend and enhance Chelsea's competitiveness, including the redevelopment of Stamford Bridge, further investment in the academy, the women's team, and Kingsmeadow stadium," the new owners said, adding that they will "continue the important work of the Chelsea Foundation."
The purchase was finally approved on Wednesday morning after the government secured legal guarantees that Roman Abramovich, whose UK assets had been frozen, would not benefit from the sale.
The sale earnings will be held in a UK bank account until the government receives additional guarantees that the funds would be used strictly to help humanitarian causes in Ukraine.
In a statement on Chelsea's website, Boehly outlined his consortium's vision, saying,: "We are honoured to become the new custodians of Chelsea Football Club. We're all in – 100 per cent – every minute of every match.
"Our vision as owners is clear: We want to make the fans proud. Along with our commitment to developing the youth squad and acquiring the best talent, our plan of action is to invest in the club for the long-term and build on Chelsea's remarkable history of success."
Boehly added: "I personally want to thank ministers and officials in the British government, and the Premier League, for all their work in making this happen."
0
0
By Adeniyi Onaara  He has been named the nation's champion and will compete for Nigeria at the Commonwealth Games. Mike...