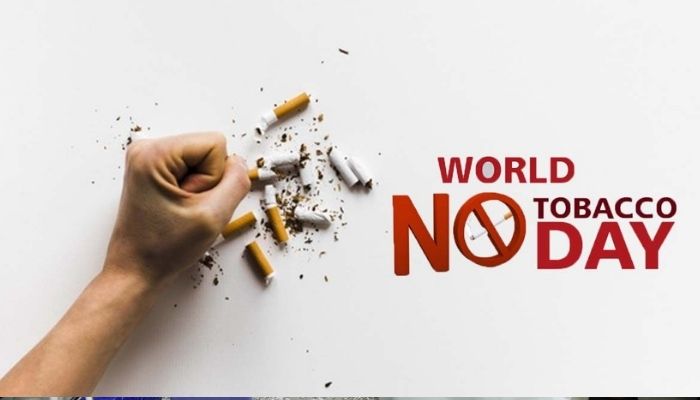 WORLD NO TOBACCO DAY: WHO ADVOCATES LEVIES, CLAIMS CROP IS HARMFUL TO ENVIRONMENT
Read Time:
3 Minute, 42 Second
By Adeniyi Onaara 
The World Health Organization has urged African governments to levy tobacco-related environmental taxes throughout the value and supply chains, including production, processing, distribution, sales, consumption, and waste disposal.
Dr. Matshidiso Moeti, the Regional Director for Africa, made the plea in a message on Monday to commemorate the 2022 World No Tobacco Day, which is observed on May 31 every year.
The goal of the day, according to Moeti, was to raise awareness about the severe health, social, economic, and environmental consequences of tobacco manufacturing and usage.
The year's topic, "Tobacco: A Threat to Our Environment," she explained, was chosen to highlight the environmental impact of the full tobacco cycle, from cultivation to production and distribution to disposal.
Moeti urged countries to speed up the implementation of the WHO Framework Convention on Tobacco Control, which offers the required direction for progressing toward smoke-free settings.
According to her, the framework would establish programs to assist tobacco smokers in quitting, as well as support for the use of excise taxes and other financial remedies.
Despite the fact that 24 African countries have banned smoking in public places and 35 have banned tobacco advertising, promotion, and sponsorship, one out of every ten African adolescents, according to Moeti, uses tobacco.
She added that the introduction of new items, such as electronic nicotine and tobacco products, are attracting youngsters' attention, adding to the concerns.
"The WHO FCTC has been ratified by 44 of the 47 countries in the WHO African Region, committing them to undertake effective and evidence-based tobacco-control measures."
"The necessity to address related environmental damage has prompted WHO to step up its efforts to combat the overall threat," Moeti said.
She said tobacco production had a number of environmental consequences, including a large-scale usage of water, which was a rare resource across much of the continent, as well as large-scale deforestation and poisoning of air and water systems.
According to her, land used to cultivate tobacco should be put to better use, especially in nations where food poverty is a problem.
"To help counter the threat, WHO has joined hands with the Food and Agriculture Organisation of the United Nations and the Kenyan government to create the Tobacco-Free Farms project.
"Launched in March, the project supports farms to switch from tobacco to alternative food crops that will help feed communities, rather than harm their health.
"The UN agencies and the Kenyan government provide training, inputs such as seeds and fertilizer, and a ready market for their harvest through the World Food Programme's local procurement initiatives,'' Moeti said.
She said that so far, 330 Kenyan farmers had switched to growing beans, with the first harvest yielding more than 200 metric tons.
"The second season, which has just begun, is now reaching more than another 1000 farmers.
"This is extremely encouraging for our plans to roll this programme out to other tobacco-growing countries on the continent,'' Moeti said.
According to her, this is the kind of hard evidence that is essential to change the mindsets of farmers, and governments, who believe that tobacco is a cash crop with the potential to generate economic growth.
She said in Malawi, for example, tobacco accounted for about half of all exports.
The comparative number for Zimbabwe is 13 percent and six percent and three percent for Mozambique and Tanzania respectively.
"What is less accepted is that these are unfortunately short-term gains that are eclipsed by the long-term consequences of increased food insecurity."
"Tobacco-related illness in the African Region accounts for 3.5 percent of annual total health expenditure.
"While tobacco leaf production is decreasing globally, it is increasing in the WHO African Region, which now produces about 12 percent of all tobacco leaf internationally."
She said that tobacco growing was a significant driver of deforestation too, due to the large quantities of wood needed for curing.
She said that tobacco cultivation exposed farmers to several health risks, including "green tobacco sickness", which was caused by nicotine absorbed through the skin during the handling of wet tobacco leaves.
"Cigarette butts litter pavements, parks, and beaches finding their way into waterways and leaching harmful chemicals that poison animals and aquatic life and children,'' she said.
According to her, reducing tobacco consumption is a key catalyst toward realising the health-related Sustainable Development Goals but, as the environmental evidence illustrates, the benefits go far beyond health,'' she said.