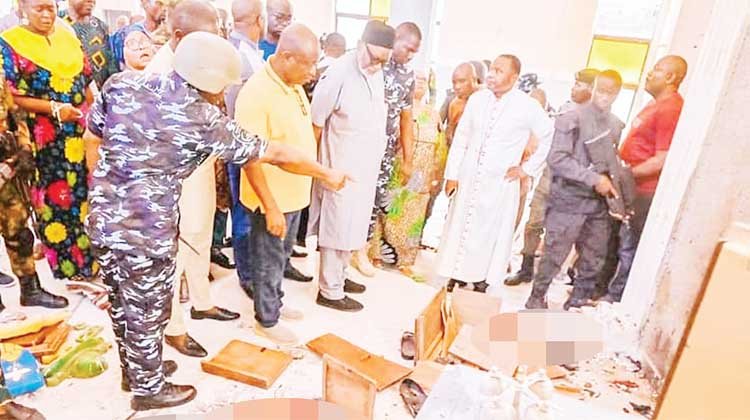 AREWA FORUM: OWO ATTACK AIMS TO SPLIT NIGERIANS
Read Time:
1 Minute, 38 Second
By Adeniyi Onaara 
The Arewa Consultative Forum has condemned the terrorist attack on St. Francis Catholic Church in Owo, Ondo State, on Sunday, in which dozens of worshippers were killed and numerous others were injured.
This was said in a statement issued by the ACF Secretary-General, Murtala Aliyu, on Wednesday in Kaduna.
The attack, according to the ACF, was an inconceivable level of inhumanity that engulfed the country and was intended to pit peace-loving people against one other.
The organization stated that the perpetrators of the heinous murder must be brought to justice, adding that there should be no justification for attributing "such heinous conduct to simply unknown shooters," as "we live and dine with the perpetrators in our towns."
The northern body also asked security forces to focus on safeguarding Nigerians' lives and property, emphasizing that "the loss of a single life is the loss of a nation."
"ACF is outraged at what it deems to be the most barbarous and implacable human conduct in recent time," the statement, headlined "Owo Killing — An eroding humanity," added.
The assassination of innocent worshippers at St. Francis Catholic Church in Owo, Ondo State, on the first service week of June, might only be defined as an unthinkable disintegration of inhumanity engulfing the nation.
The ACF condemns such an animalistic attack on a peaceful village, in which dozens of people died and others were fighting for their lives.
"These attacks on worship centers are intended to divide our wonderful, peace-loving people."
"All attempts to bring the perpetrators to justice will be greatly appreciated by the Arewa Consultative Forum." Because we live and dine with the culprits in our communities, the Forum will not accept any explanation for tying such heinous acts to only mysterious shooters.
Similar killings in mosques were also condemned by the ACF in Zamfara, Katsina, Sokoto, Kebbi, and Kaduna states in the North-West, as well as Borno and Yobe states in the North-East.