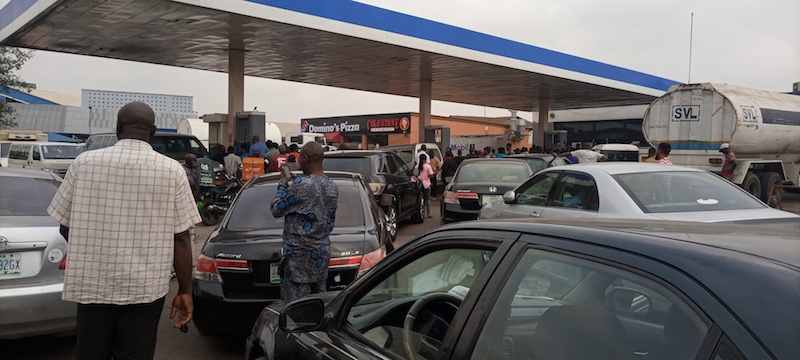 SCARCITY: FUEL SELLS FOR N180 PER LITRE IN LAGOS, ABUJA AS NNPC SUPPLIES REDUCE
Read Time:
1 Minute, 32 Second
On Monday, motorists in the major cities of Lagos, Abuja, and Ogun faced long lines at gas stations, forcing them to wait for hours.
Long lines formed at various filling stations in Lagos and Ogun states, including Mobil, Capital, Fatgbems, Enyo, TotalEnergies, and NNPC.
Despite the fact that these filling stations had items that sold for N165/litre, motorists struggled to get fuel with which to run their businesses.
In addition, lineups formed in states bordering the FCT, including Nasarawa and Niger.
Long lines formed at several fueling stations in the Federal Capital Territory, including the NNPC, Mobil, A.A. Rano, AYA Ashafa, and Enyo, among others.
Hundreds of vehicles descended on the few filling stations that distributed gasoline in several states, waiting in line for hours to purchase PMS.
Oil merchants blamed the situation on a decline in supply, claiming that demand for gasoline was currently higher than what the Nigerian National Petroleum Company Limited could supply.
The Nigerian National Petroleum Corporation (NNPC) has been the sole importer of fuel into the country for more than four years.
"Lagos is having waits today, and Kaduna is nearly without PMS in its retail outlets," said Billy Gillis-Harry, President of the Petroleum Products Retail Outlets Owners Association of Nigeria, PETROAN.
"So it's really a case of demand outstripping supply." The supply chain is inefficient, and we won't be able to meet product demand. "
"Well, certainly, if there are goods, they should be supplied," Gillis-Harry said when asked to explain why there weren't enough. However, I am aware that the authorities are doing all possible to ensure that everyone is watched and encouraged to sell things at the high price that has been permitted.
"However, there will be waits because there are no products in the retail establishments." As a result, demand has definitely outstripped supply.