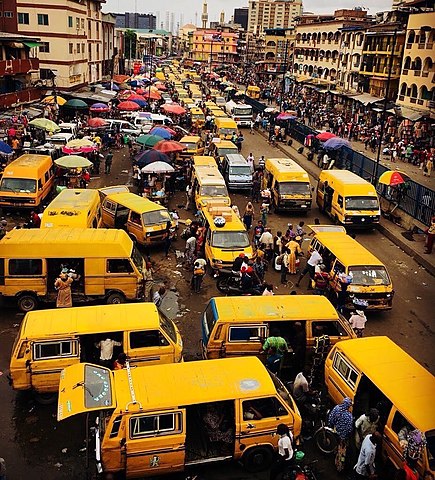 JAGABAN STICKERS: THE TRUTH ABOUT N20,000 EXTORTED FROM LAGOS COMMERCIAL BUS DRIVERS
Read Time:
2 Minute, 3 Second
The social media was buzzing with posts claiming that commercial bus drivers in Lagos were forced to pay 20,000 Naira to obtain a sticker with the word "Jagaban" printed on it.
Additionally, it was claimed in the post that each driver was required to pay a monthly rent of 10,000 Naira for the use of such stickers.
According to a social media post, Asiwaju Bola Ahmed Tinubu, the All Progressives Congress (APC) presidential candidate, popularly also known as Jagaban due to his chieftaincy title of the Jagaban of Borgu, had sanctioned in the extortion and payment.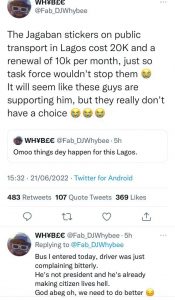 Hotjist.com visited various loactions within the metropolis in order to discretely investigate the validity of the claims.
We spoke with a number of commercial bus drivers who genuinely confirmed the existence of the Jagaban sticker in Ikeja, Oshodi, and surrounding areas.
However, the drivers affirmed that the stickers have no connection to Asiwaju Bola Ahmed Tinubu and that the stickers were actually made by officials from the Lagos State Environmental Task Force, in conjunction with their unofficial agents, who charge commercial bus drivers in order to keep them from being fined for various traffic and other offences.
Mr. Bode Adeyefa alias Eko, one of the drivers, took the time to clarify that: "officials from the Lagos State Environmental Task Force have known unofficial agents who assist them in managing and coordinating illegal extortions from commercial bus drivers.
He described how each route has at least; a known agent, each of whom is known by a different name, such as Jaagaban, Ina Fire, Sanjay Omo Oga, Area 1, and Rock of Ages.
"The way these agents work is that each agent, such as Ina Fire or Jagaban, will issue the sticker to a certain bus driver for a payment of 20,000 naira while noting the vehicle's licence plate number. 
In addition, the commercial bus is required to renew the 'subscription' each month for 10,000 naira, which grants him immunity from a number of traffic and environmental offences.
He added that commercial bus drivers who do not pick up and drop off passengers at authorised commercial bus garages are the main users (of the service) for the usage of the stickers. Our team went out and saw the various stickers (with pictures below) on some of the buses.
All efforts to reach the Public Relations Officer of the Lagos Environmental Task Force for his reaction to the allegation proved abortive.