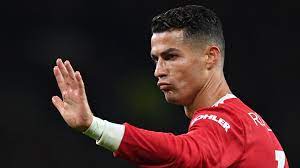 RONALDO STILL WANTS TO LEAVE UNITED DESPITE TALKS WITH CLUB
Cristiano Ronaldo still hasn't changed his mind about leave Manchester United following talks with the club this week.
Ronaldo and Jorge Mendes had meetings with United on Tuesday at Carrington, but his position hasn't changed; he still gets to play for a team in the Champions League and win major trophies.
However, Ronaldo has resumed training with the team after missing the club's preseason tour of Thailand and Australia owing to family responsibilities. However, United dremain adamant to let the forward leave.
There aren't many options available to him. While Bayern Munich and Atletico Madrid looked to publicly rule themselves out this week, Chelsea is no longer an option.
Oliver Khan, the president of Bayern Munich, stated last week that while he respects Cristiano Ronaldo, he is not the type of player who fits the club's vision.
Atletico fans displayed a banner stating 'CR7 not welcome' at a pre-season friendly on Wednesday.
0
0
Following his attendance at the 28th United Nations Climate Change Conference in Dubai, the United Arab Emirates (UAE), President Bola...