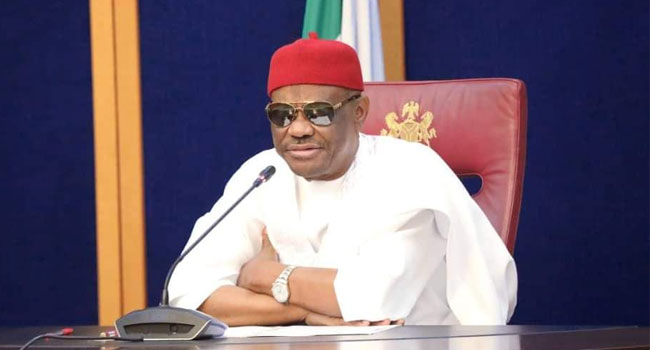 ANY HOTEL THAT HOUSES CULTISTS OR CRIMINALS WILL BE DEMONISHED – WIKE
Read Time:
1 Minute, 32 Second
By Adeniyi Onaara
The governor vowed to prevent any group from destroying the state's existing level of relative tranquility.
Nyesom Wike, the governor of Rivers State, has vowed to destroy and bring legal action against any hotel or event venue that allows cultists and criminals to hold unlawful activities there.
Why it's significant: Wike said that his government has invested heavily in preserving the state's peace and security and that he would not give up while plots are being made to bring back the state's dark era.
At the launch of the 12th flyover at the Mgbuoba, Ozuoba-Ada George Road in the Obio/Akpor Local Government Area on Friday, August 19, 2022. the Governor made this announcement.
Hotjist.com reports that Prof. Jerry Gana, the former minister of information, flagged off the 927.5-meter flyover.
Wike's caution "Let me inform everybody who cares to listen, whether you're in PDP, APC, SDP, Accord Party or any other party, if I catch you trying to violate the security in this state, you will be held responsible," Wike was quoted as saying in a statement by his media assistant, Kelvin Ebiri.
I won't allow anyone to undermine this government. We have experienced insecurity, but God has worked with us and the security services to keep the peace.
Sadly, most people don't take Wike's final state broadcast's warning seriously, he said.
I have threatened to demolish any hotel or event venue where criminals and cult members are permitted to congregate to plan a breach of the peace.
Therefore, if you are aware that they are holding these meetings at your hotel, event space, or bar, think twice right away.
"If you want, use social media to see how they're squeezing you; it's your choice. I won't let anyone undermine this state because we've paid for security and endured insecurity.