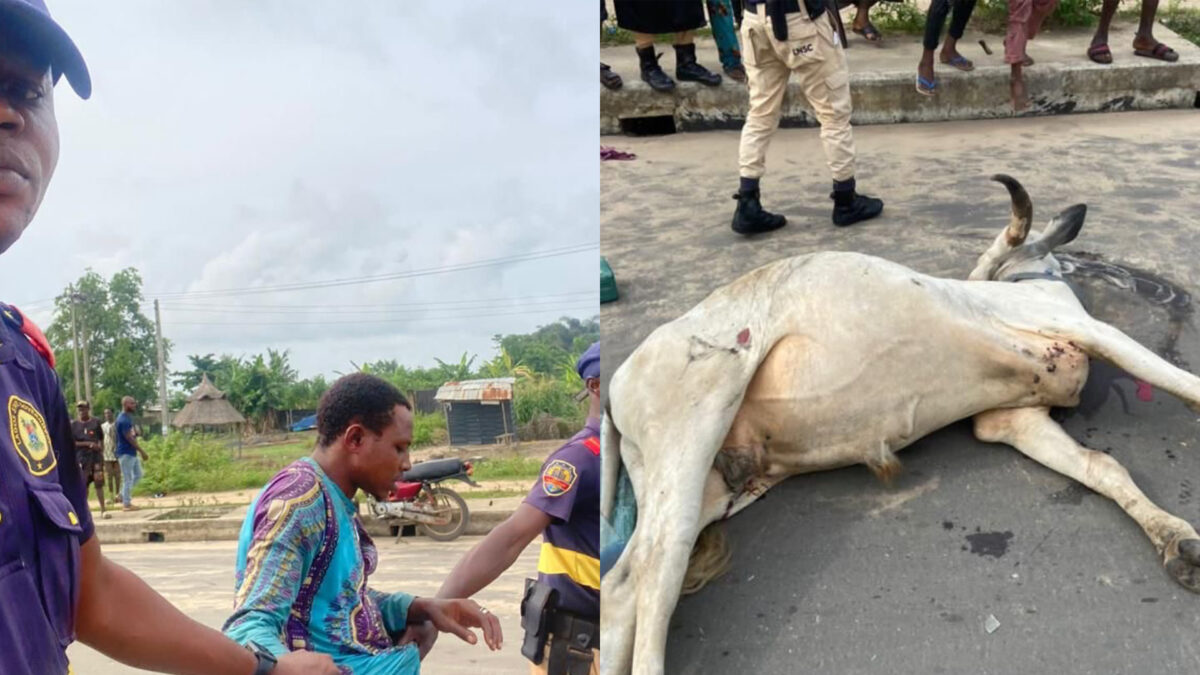 NEWS UPDATE: HERDERS KILL MAN IN BADAGRY OVER DEATH OF COW
Read Time:
1 Minute, 38 Second
By Aishat Momoh. O.
In the Agemowo, Badagry region of Lagos state, two herders are accused of fatally stabbing a man in retaliation for a cow's death.
According to reports, the man was stabbed after two of their cows rammed into a commercial vehicle conveying passengers from Seme to Mile-2, on the Badagry Expressway.
Omoga was allegedly stabbed by the herdsmen in a fit of rage, and he died instantly.
Local resident simply identified as Olusola told newsmen that the herder was turned up to the police by members of the Lagos Neighbourhood Safety Corps (LNSC).
According to Olusola, Omoga was the nickname given to the deceased, who also notes that "The LNSC detained one of the herders." The youths in the area are looking for the absconded herder so the army and police are already on the scene.
"The Fulani man was trying to cross to the other side of the road( badagry expressway ) when some of the cows ran into the road and the bus driver hit two of the cows," says Shola. "The bus moving from seme to mile2 in the early hours of the morning."
The two herders were taken into custody on Monday, according to Benjamin Hundeyin, the police spokesman in Lagos.
He wrote in his tweet, "A commercial vehicle ran into two cows this morning at Agemowo, Badagry, killing one of the cows. The two cattle herders attacked someone they mistook for the vehicle conductor, resulting in his death. Angry residents blocked the highway in protest of the killing."
"The DPO, Morogbo Division, assisted by soldiers from 243 Recce Battalion, Badagry successfully cleared the obstruction. Normalcy has since returned to the area. It is entirely false that the victim was turned back when he sought refuge in the police station."
"He did not make it off the accident scene, let alone reach the station. Meanwhile, the two herders have been arrested. Investigation is ongoing. Updates will be provided subsequently."