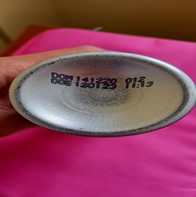 NAFDAC RECEIVES SAFETY REPORT ON BAN OF PROFESSIONAL MOUSE PRO-VITAMIN B5 BY UNITED KINGDOM STUDIO 2000 SYSTEM
Read Time:
1 Minute, 5 Second
By Aishat Momoh. O.
The Professional Mouse Pro-Vitamin B5 manufactured by the United Kingdom Studio 2000 system has been banned.
According to safety information from the European Rapid Alert System for Dangerous Non-Food Products received by the National Agency for Food and Drug Administration and Control (NAFDAC), Butylphenyl methylpropional (BMHCA), which is prohibited in cosmetic items, is present in the product. BHMCA may induce skin hypersensitivity, damage to the reproductive system, and harm to the unborn child's health.
This was mentioned in a statement signed by the management of NAFDAC on Wednesday, 21st of September, 2022.
NAFDAC requests that Professional Mouse Pro-Vitamin B5 produced by the United Kingdom Studio 2000 system not be imported, distributed, sold, or used at this time.
People who have the recalled batches of the product are urged to stop selling or using them and to turn them in to the NAFDAC office that is closest to them.
The NAFDAC ADR e-Reporting platform is accessible at www.nafdac.gov.ng.
NAFDAC however, encourages healthcare professionals, consumers, and patients to report adverse events related to the use of this product to the NAFDAC office that is the closest to them, NAFDAC PRASCOR (20543 TOLLS FREE from all networks), via pharmacovigilance@nafdac.gov.ng, or via the NAFDAC ADR e-Reporting System.
0
0
A man who was allegedly the pastor of Dunamis Church, which is located in Mission Ward North Bank in Makurdi,...