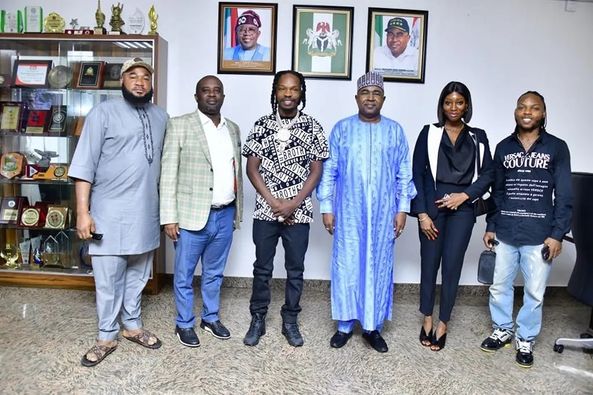 (PHOTOS) WAR AGAINST DRUG ABUSE: NAIRA MARLEY VISITS NDLEA HEADQUARTERS
Read Time:
1 Minute, 30 Second
By Aishat Momoh. O.
Nigerian Music Star, Afeez Fashola AKA Naira Marley, paid a visit to the National Headquarters of the National Drug Law Enforcement Agency in Abuja, on Thursday.
The reason for his visit to the Agency, according to a Facebook post, was to declare his support for the War Against Drug Abuse as he called on Nigerian youths to shun drug abuse.
Also, in a video, the "Jo Soapy" crooner who is widely known to promote drug use among other social vices in his songs and music videos, made the declaration at the headquarters of the NDLEA in Abuja, adding that drug abuse is dangerous to people's health.
"It's your boy Naira Marley, I'll like to urge my fans – Marlians and all Nigerian youths to stop doing drugs because it's not good for your well-being. Stop substance abuse of any form; I've keyed into this campaign to support the NDLEA to stop drugs on the streets. It's not good, it makes you go back to doing crime," Naira Marley said.
Reacting to the development, the spokesperson for the NDLEA, Femi Babafemi, said, "See who's on board ⁦@ndlea_nigeria⁩ War Against Drug Abuse advocacy campaign; it's your favourite, Naira Marley."
See Pictures Below: