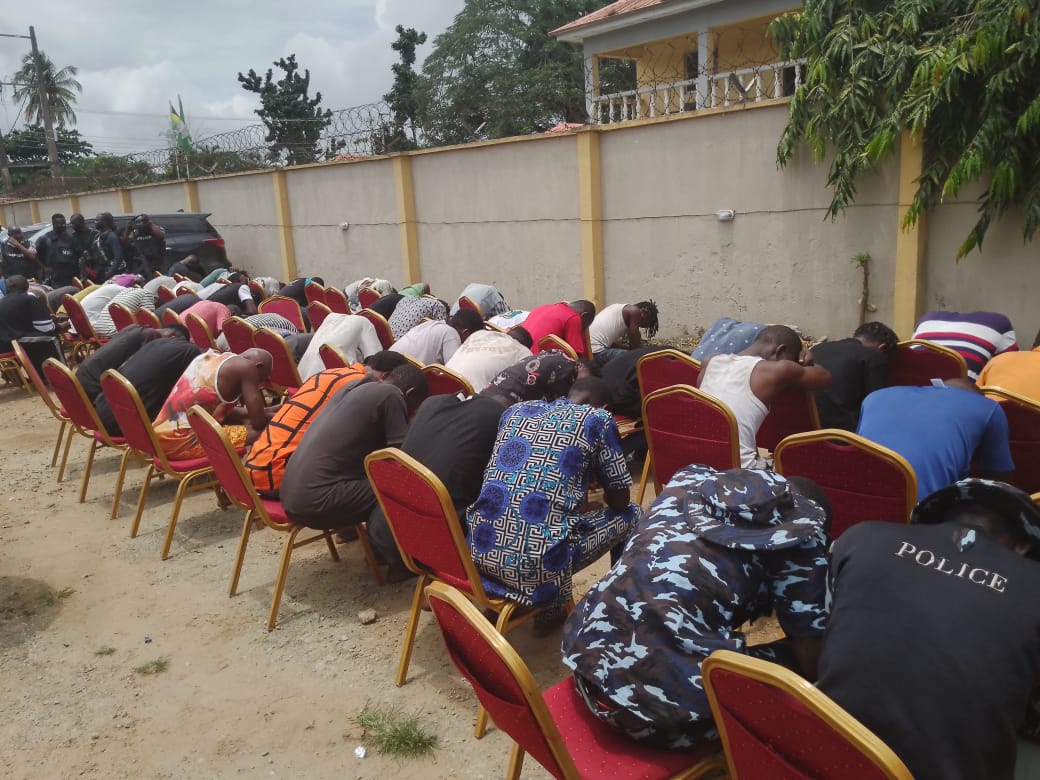 POLICE PARADE SUSPECTED KILLERS OF OFFICER, 65 OTHERS IN LAGOS
Read Time:
5 Minute, 8 Second
By Aishat Momoh. O.
The Nigeria Police, Lagos State Command, on Thursday, paraded 66 alleged criminals, including the man that smashed his girlfriend's head and those responsible for the attack around Airport hotel in Ikeja, which led to the murder of a Police officer.
CP Idowu Owohunwa, revealed that the suspects were apprehended after 'Operation Flush' was initiated by the police last week and paraded them before the command's headquarters in Ikeja.
This is coming barely one month after the launch of operation flush, a strategy introduced to eradicate crime from the state began.
It would be recalled that the newly set up enforcement team from the Headquarters headed by the Deputy Commissioner of Police, Operations arrested fourteen miscreants on Friday, August 4, 2023 at Mile 2 and twenty-three others on Tuesday, August 8, 2023 at the Apapa area of Lagos for extorting motorists, especially truck drivers. It is to be noted that the operation is continuous and will be replicated in other part of the State.
"We have since expanded our capacity as we are now working with the Nigerian Port Authority (NPA) and other stakeholders to bring a total stop to this menace. These miscreants and extortionist are strongly warned to desist from such nefarious activities as failure to heed this warning will lead to their arrest and prompt prosecution."
The suspects paraded at the Police officers Mess, are those who have engaged in varying crimes including armed robbery, unlawful possession of arms, impersonation, cultism, murder, unlawful possession of fake US dollars and Pounds Sterling note amongst others.
Owohunwa said, "We present to you today some of our achievements in the fight against crime and criminality within Lagos State in the past one month or thereabout. Before you today we have a total of sixty-six (66) suspects who have engaged in varying crimes including armed robbery, unlawful possession of arms, impersonation, cultism, murder etc.
From all these cases which we successfully cracked, we recovered a total of  fourteen (14) firearms including two AK47 rifles, one of them locally fabricated, two (2) locally fabricated toy guns, fifteen (15) live cartridges, four (4) expended cartridges, twenty-five (25) live ammunition, five (5) machetes, thirty-four (34) bags of weed suspected to be Indian hemp, six (6) vehicles,  two bags containing fake US Dollars, fake Pound Sterling note, two (2) award plaques from Buccaneer fraternity, one (1) Buccaneer banner, a pair of police camouflage uniform, a jack knife, police identity card, two hoods, black pipes some quantity of weed suspected to be Indian hemp and sixty-six kegs of fake Total engine oil.
On the case of the gruesome murder of the police officer, the CP said, "On 3rd of August 2023 at about 2200hrs, based on intelligence gathering on the armed robbery incident around Airport hotel Ikeja that led to the brutal murder of a police officer and the carting away of his rifle, operatives of the Command embarked on a discreet investigation and arrested one Salami Ahmed 'm' aged 30, Ismaila Adio 'm' aged 22, Toheeb Muri 'm' aged 23, Seyi Olajide 'm' aged 24, Nelson Sunday 'm' aged 34 and James Nnamani 'm' aged 24 at their hideout in Alagbado and Amikanle areas of Lagos State.
One AK47 rifle with twenty-one rounds of live ammunition were recovered. This syndicate is also responsible for robbing a popular night club in Ikeja on 19th of July 2023."
Meanwhile, "On 10th of August 2023 at about 1310hrs, operatives of the Command arrested one Solomon Ochohepor 'm' aged 40 and Abu Ibrahim 'm' aged 47 for impersonation. The duo were impersonating as mobile police officers guarding an estate were arrested when they were trying to effect an arrest on a case reported by a lady who thought them to be genuine officers."
CP Owohunwa went on to say that, "On 18th of August 2023 at about 0200hrs, based on intelligence gathering on the activities of some suspected cultists, operatives of the Command raided their hideouts at Sabo-Yaba and Ijesha-Surulere area of Lagos State where one Daniel Ojo 'm' aged 35 and Giwa Quadri 'm' aged 36 were arrested.
The following items were recovered from both scenes: One (1) pump action rifle, one (1) locally made pistol, three (3) live cartridges, three (3) expended cartridges, three (3) branded machetes, two (2) award plaque from Buccaneer fraternity and one (1) Buccaneer banner among other incriminating items.
During an interview with one of the suspects, who disclosed that he was lured by one of his friend into robbing people and deeply regrets his actions. a Spyder Victor Paintball Marker gun Semi-Auto and a machete was recovered from him when he was arrested.
Also, "On 5th of August 2023 at about 0300hrs, operatives of the Command intercepted a Toyota Sienna bus with registration number FST 26 HK along Mushin Road. The driver fled the scene upon sighting the police. Thirty-four bags of weed suspected to be Indian hemp was discovered in the vehicle."
While speaking on cultism, the Police boss said, "On 17th of August 2023 at about 1700hrs, intelligence report gathered revealed that deadly, notorious, and wanted cultists known as 'Aleeba' and 'Agbara' who were involved in the killings of rival cult group members and innocent residents during cult related clashes in Isolo were spotted in their hideouts at Ayoobo and Atan area of Ogun state.
Police operatives of the Command swung into action and arrested one Busayo Emmanuel aka Aleeba 'm' and Rahman Taiwo aka Agbara 'm' both aged 27."
Investigation revealed that Aleeba and other suspect are members of a cult group while Aleeba is the second in command of the group.
Investigation is ongoing to apprehend other fleeing members and recover their operational arms."
Owohunwa who disclosed the command's intention to set up a taskforce to curb criminality in the state, while parading the suspects, sounded a note of warning to miscreants intending to take advantage of the ember months to perpetrate crime .
He however, assured Lagosians that the command will continue to do everything operationally possible to ensure that crime and criminality is brought to the barest minimum in the State.