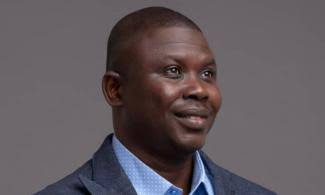 AAC UNVEILS 2023 GOVERNORSHIP CANDIDATE
Read Time:
2 Minute, 53 Second
The African Action Congress (AAC), Lagos state chapter, has unveiled it's governorship flag bearers and candidates vying for legislative positions.
The party on Saturday, unveiled Comrade Akeem Olayiwola, and Dr. Bennet Eze, who would be supporting as his running mate.
While giving his Manifest, Comrade Akeem, unfolded a new blueprint for the development of the state and also, promised to give Lagosians a new phase of life, if he was elected.
He added that if he was elected as the next Governor of the state, come 2023, in under three years, his administration would create more standard schools for quality learning across the state to the extent that the private schools would be threatened that they would have no choice than to imitate this standard as well.
He said "Lagos cannot continue to have a situation where our primary and secondary schools are mushrooms and unfit to transform the knowledge of the kids. We want to stop the ugly trend where private schools are times ten of public schools. We will also build quality schools to the point that private schools would be so threatened that they would have to copy our standards to survive.
"We will also make sure we get at least one new higher institution per district, while we will build six (6) Technical Colleges within two years. Remember the whole of Lagos has just one Technical College at Agidingbi. This will change. Education should be for all of Lagosians. So, we will provide a truly free Education at all levels! We will with education eradicate child and youth cultism; crimes, and mass illiteracy.
Olayiwola stressed that during his own administration, he would be closer to the people because he believes that he needs to give back to the people as the AAC party belongs to the masses adding that the party believes in true pragmatic way of doing things.
He also, promised that his government would rebuild the healthcare system by creating more medical schools that would serve at least three new hospitals in each senatorial districts.
"This means, we will create new hospitals within three years of our coming into governance, while we will create three medical schools that will train doctors, nurses and other medical workers to our standards.
"Lagosians should know that it is a new dawn. There is the data with LASRA which our government will advance and deepen. With LASRA, we will be providing 'Cost of Living Allowance (COLA)' for all Lagosians, especially those living below the poverty line.
"Millions of Lagosians do not live on two dollars per day. This is too absurd and alarming. We will also key into the AAC national manifesto of giving our students 'Cost of Study Allowance (COSA), which would be given to all students of higher education every semester, a sum of N100,000.
"We will also be giving grants and soft loans to traders, instead of allowing millions to be at the behest of Komule Lantem loans (LAPO)," he declared.
However, he promised to alter the market structure and strengthen the unorganized sector to make it more feasible for the operators while stating that he would give local governments complete autonomy.
Meanwhile, Comrade Deji Kolawole, the South West Deputy Chairman of the party, who represented the party's presidential candidate, Omoyele Sowore', said that Lagos is the bastion of AAC, and called on the members and supporters to campaign and work for the success of all the candidates.