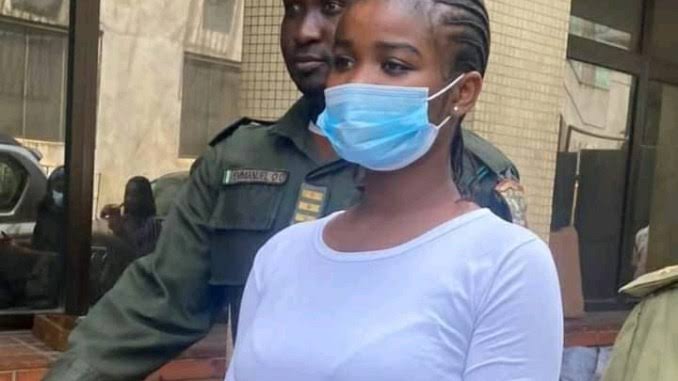 USIFO ATAGA'S MURDER: CHIDINMA HAD ROMANTIC RELATIONSHIP WITH HER FOSTER FATHER – POLICE WITNESS
Read Time:
3 Minute, 3 Second
By Aishat Momoh. O.
On Tuesday, a Deputy Superintendent of Police, Olusegun Bamidele testified before Justice Yetunde Adesanya, at a Lagos High Court sitting at the Tafawa Balewa Square, that Chidinma had a sexual relationship with her foster father, Onoh Ojukwu.
Bamidele, who has been serving at the State Criminal Investigation Department's (SCID) Panti Yaba's Homicide Unit, for 10 years revealed this while he was cross-examined by Chidinma's counsel, Onwuka Egwu, during the trial-within-a-trial.
He also added that during investigation it was established that the first defendant's mother did not approve of her been in custody of Mr. Ojukwu.
Chidinma, a 300-level undergraduate of the University of Lagos, was arraigned alongside two others, Adedapo Quadri and Chioma Egbuchu on 12th October, 2021, on a nine-count charge over the alleged murder of Mr Ataga.
She and Adedapo Quadri, are facing the first to eight counts bordering on conspiracy, murder, stabbing, forgery, making of bank statements, and stealing.
They were alleged to have conspired and murdered Mr Ataga on 15th June 2021, by stabbing him several times with a knife in the neck and chest.
The incident took place at 19, Adewale Oshin Street, Lekki Phase 1, Lagos.
The third defendant, Ms Egbuchu, is facing the ninth count of receiving a stolen iPhone 7 belonging to the deceased.
On October 29, 2022, DSP Bamidele described to the court the conclusions of his investigation team and how Chidinma confessed to killing Ataga during a fight in his hotel room.
The court deferred the case until Tuesday, at the request of Chidinma's legal team in order to conduct a trial-within-trial to determine whether Chidinma's statement was produced under duress.
Bamidele claimed during cross-examination that his team accidentally discovered information suggesting Chidinma was having a romantic relationship with his foster father, Ojukwu.
He said: "In the course of our detention of Mr. Ojukwu, we stumbled on intelligence that there was an amorous (sexual) relationship between the first defendant (chidinma) and her foster father. That gave us a hint that Mr. Ojukwu was not sincere and that he was aware of the offense that Chidinma is standing trial for today.
"We found that she was concealing the real information. We also established that the mother of the first defendant never approved the custody of the first defendant to Ojukwu and it was on this basis that we charged him to court alongside the three defendants at the Magistrate Court so that the court can decide if he should get bail or not.
Bamidele also narrated to the court how Chidinma and Mr. Ojukwu were arrested and insisted that due process was followed while obtaining their statements at the Police station.
He said, "Mr Ojukwu was not kept in the cell, he was in my office. He received visitors and saw them off at will. Someone in detention cannot have such access.
During his stay with us, he also promised to assist us in the investigation."
He also added that, before eliciting further information from Chidinma, she requested for water which was provided for her adding that she also ate before the interaction started.
He said, " We started the interaction for relevant information that will aid the investigation we are carrying out. During the interaction, I told her that we need to put down what she has said verbally into writing.
She initially started writing by herself but I noticed that her handwriting was not legible enough so I suggested that she writes in Capital letters. Then, she requested that I should write for her"
Justice Yetunde Adesanya however, adjourned the case till November, 10 for continuation of trial.